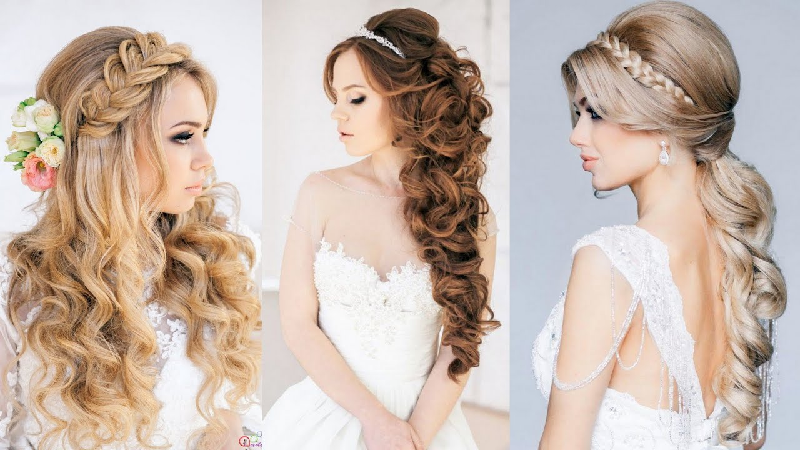 4 different Wedding Hairstyles, How To Pick The Best Fit For You
Penny feris, 2 years ago
4 min

read
1838
Hair is a key factor in making you look bomb for your wedding whether you are the Bride, Groom, flower girl, or grandma. Hair is everyone's main accessory every day. When your hair looks fabulous you feel fabulous, it sets off your confidence. When my hair is messy and gross I feel gross and my confidence is not all there.  On the day of a wedding you want to look your best and feel your best. Let us break down five different hairstyles that will look amazing and be the best fit for you.
THE UPDO
The updo is a very classic and elegant hairstyle. How would you decide if this is the best fit for you? In the updo you can do a full bun with beautiful curls coming down on the sides of your face to frame it. For me I have an oval/ roundish face. Having my hair up is not going to be the best fit for me because it makes my face look a little larger than it is. This is a very classic hairstyle, a lot of the brides love it so they can put their veil on their bun or long braid. Keeping the hair away from your face is a smart choice especially if it is a little hot outside and you will want to keep as much up as possible. If you follow the smashing cake to your new spouse's face this hairstyle will be essential so you do not get cake in your hair.
DOWN AND CURLY
This is a go to elegant soft style for me. Most professional pictures that I have done have my hair down and curled. This compliments my face personally and slims me down giving me the best pictures. I feel more confident with this hairstyle because it's main focus is not around my chin area. With this style you will be able to do multiple things with it. You can even do a half up half down, this is great if you want to make your hair look more voluminous. You can add a little poof in the back. Then the excess hair can be curled giving the illusion that you have more hair. This can also be done if you add clip-in extensions that will add to your already beautiful hair. Adding in some volume and length can make styling your hair way easier.
THE BRAID
Braiding some part of your hair always adds a really cute touch to your hairstyle. A braid can be multiple things like putting you hair in a bun and braiding excess hair and making it soft and getting your hair out of your way. Another way to braid the hair is by getting clip in extensions if you do not already have longer hair and installing them. Next you will braid it in a semi loose braid to the side. This will give you a semi Updo without having most of your hair loose and falling. Pull down some side hairs and curl them and voila, absolutely gorgeous.
MAN BUN/ SHORT COMB OVER
Although this seems like a hairstyle that should have been left in 2016, a lot of men these days have long hair. Pulling your hair up with a slicked back bun and having your hair faded by a barber  to give you a slick finish. Having a short haircut with a nice fade is an essential part of going to a wedding and presenting yourself. Slicking back the top of your hair with a light gel will help give you a put together look without looking like you glued your hair down.
You will want to keep these styles in mind for your engagement photos as well so your cute hairdo doesn't go to waste and you can use it on your photo wedding guest book or on your wedding programs.  Either way a good hairstyle that fits you will make you feel like you are on top of the world and set the stage for you when  you walk into the doors of that wedding.
Related posts