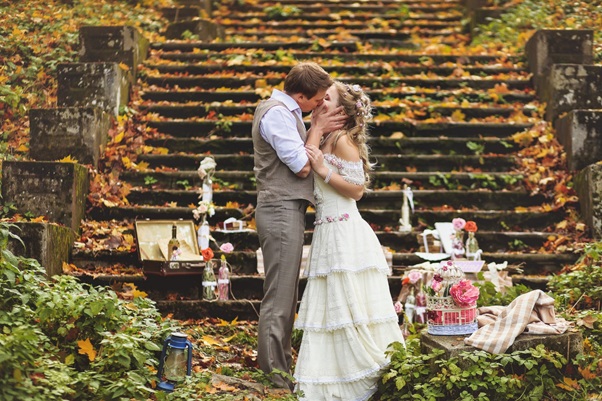 The Different Types of Wedding Venues That Are Popular Today
Tom Desauza, 1 year ago
3 min

read
626
One in five couples chooses a church wedding to tie the knot. This is considerably less than the 50% of couples that chose church weddings in the previous generation. This move away from tradition has brought with it a rise in incredible wedding venues.
So, what are the most popular types of wedding venues? Keep reading to find out and get some inspiration for your big day!
House of Worship
For a traditional wedding ceremony where religion plays a big part, a house of worship is a popular choice. The downside to these wedding venues is that usually, it's only possible to hold the ceremony in a house of worship. However, you may find a sacred place that allows the reception, too.
And if not, then simply host the reception nearby. Whether it be a church, mosque, temple, or synagogue, there's something special about saying your vows in a house of worship.
Banquet Hall 
If your guest list is growing bigger by the day, then a banquet hall is one of the best wedding venue options. Most banquet halls offer all-inclusive services that make planning your big day a whole lot easier.
Most banquet halls are large and spacious, which is great for your reception and ceremony too. Take advantage of the on-site catering and rental services.
Farm/Barn 
Farmyard-chic is more popular than ever. For a rustic, unique wedding venue option, and farm or barn is fantastic. You may find a farm that offers wedding services or you'll have to put in some work to make the barn come to life with your own decor ideas.
These wedding venues are the ideal backdrop for fun wedding photos and are perfect for the creative, laid-back couples out there.
Vineyard 
There's something intrinsically romantic about vineyards and wineries. This is why they've always been a popular wedding venue choice. You can host the ceremony outside among the grapes and then move into the vineyard banquet hall for the reception.
What's great about hosting a wedding at a vineyard is the variety. You can find a vineyard that's rustic or luxurious, that's small and intimate, or large and sprawling.
Vacation Rental
This is a lovely and affordable idea for an intimate wedding with an exclusive guest list. You can search for an incredible vacation rental in the location of your dreams. Perhaps a beachfront villa, cozy mountain lodge, or a gorgeous ranch?
You'll have to DIY your wedding with this option but that just makes it all the more special and unique. You'll have to make sure that the owner of the rental is comfortable with you hosting a wedding. But if you get the go-ahead, it's sure to be one to remember!
Which of These Types of Wedding Venues is Your Favorite?
Wow, there are amazing types of wedding venues to suit every kind of couple. From a romantic vineyard affair to a DIY wedding in a vacation rental or a rustic farm ceremony — which is your favorite?
Did you enjoy this post? Our site is packed with wedding-inspo — keep exploring for more articles!
Related posts