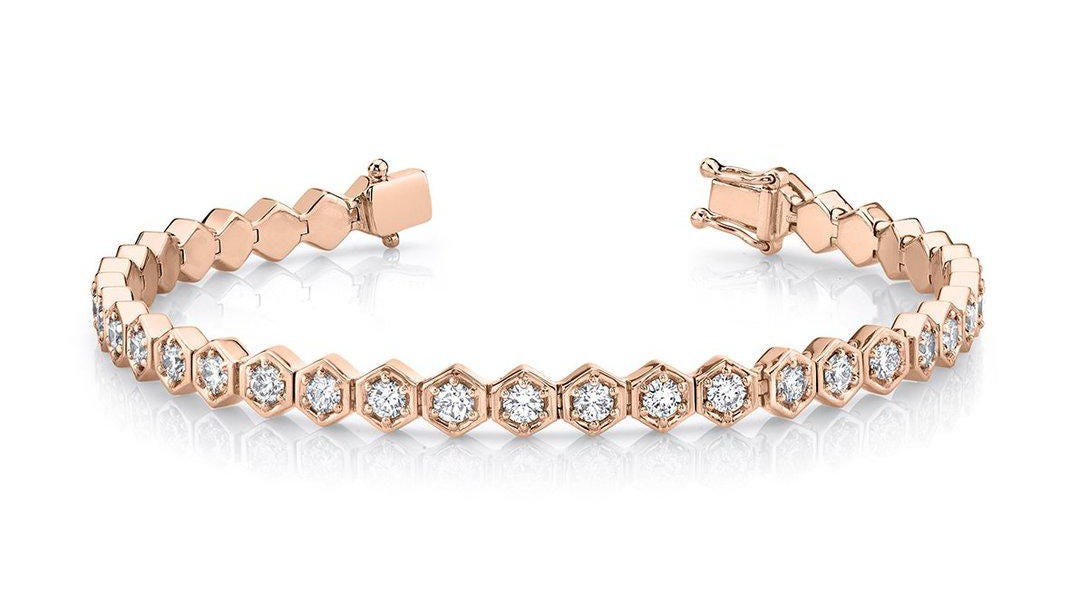 What are the Different Settings and Styles for Tennis Bracelets?
Dom Croppy, 8 months ago
4 min

read
371
Tennis bracelets have been around for decades, but their popularity has only grown with time. The history of the tennis bracelet dates back to 1987 when an American tennis champion, Chris Evert, famously requested a break during a match so she could search for her diamond bracelet that had fallen off. After this incident the bracelet became known as the "tennis bracelet" and its popularity soared.
There's substantial disagreement over whether the name tennis bracelet originated before this game.
Some critics contend that the tennis bracelet received its name merely because Chris Evert started wearing her diamond bracelet while playing tennis. As a result, the accessory was given the moniker tennis bracelet.
The term stayed because of how well-known and well-known she was in the sport of tennis. Others contend that the facts have since been muddled up and that the actual game in which Evert lost her diamonds took place in 1978.
Settings for Tennis Bracelets
Tennis bracelets typically feature diamonds, but other gemstones and metals can be used as well. The settings determine how the stones are held in place, and there are several main types that you should know about before choosing a bracelet.
Prong Setting
The most popular setting for a tennis bracelet is the prong setting. Prongs are small metal pieces that hold the stones in place, and depending on the size of the gemstone, there can be anywhere from two to six prongs.
This type of setting is a good choice for bracelets with larger or more expensive diamonds since it allows the maximum amount of light to pass through and show off its sparkle.
Bezel Setting
The bezel setting is another option for a tennis bracelet, and it's one of the oldest types of settings around. This type of setting involves an encircling band of metal that sits on top of the stone to hold it in place, rather than using prongs. The benefit to this style is that it offers slightly more protection than other settings.
Half-Bezel Setting
Another popular setting for tennis bracelets is the half bezel. This setting is when the diamonds are set in a solid gold or silver band, with each diamond secured by four prongs in an alternating pattern. The half bezel is a timeless look that will never go out of style and always looks elegant on the wrist.
Channel Setting 
The channel setting is similar to the bezel setting in that it also uses a band of metal, but instead of encircling the stone, it allows for several stones to be set side by side. With this type of setting, you can choose from either a single row or double row design. The beads in between the stones add a unique touch and make the bracelet look more elegant.
Gemstones
Another popular option for tennis bracelets is the gemstone setting. This style incorporates a mix of gemstones, ranging in colour and size, for an eye-catching look that can be dressed up or down. These types of bracelets often feature a combination of diamonds, rubies, sapphires and other precious stones to create a dazzling effect.
Pavé Setting
Finally, there's the pavé setting, which is one of the most popular settings for tennis bracelets. This type of setting involves small metal beads or "pavés" that are set close together between the stones, giving your bracelet a luxurious look.
When it comes to styles, the possibilities are endless. You can opt for a simple and classic bracelet or choose something more elaborate with stones of different colors and sizes. Some designs feature intricate patterns of gemstones that add an extra element of interest to your bracelet, while others have larger diamonds in a single color for a bolder look.
Takeaway
With its timeless elegance and versatility, a tennis bracelet is an essential piece of jewellery that will never go out of style.
From the traditional prong setting to the more modern pavé setting, different settings and styles offer unique ways to show off your personal style. With so many options available, there's sure to be a tennis bracelet that fits your taste. So when you're looking for the perfect accessory to complete your outfit, remember to consider all the options and choose the one that best reflects your own unique style.
Related posts