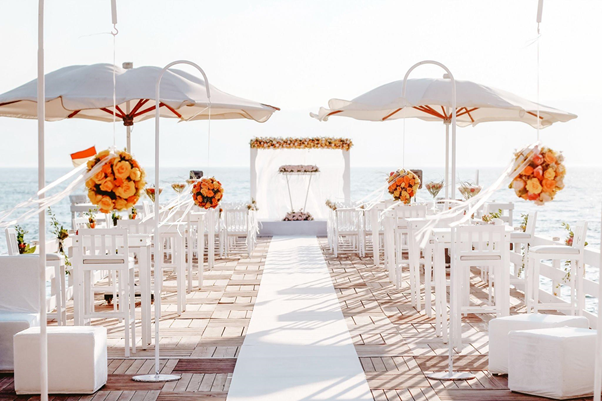 How to Incorporate Natural Elements into Your Wedding Decorations for a Rustic Touch
Torry Gown, 6 months ago
2 min

read
2017
More and more couples are choosing to incorporate natural elements into their wedding decorations. From rustic barns to outdoor ceremonies, couples want to find ways to make their special day unique and memorable. Here, we provide a detailed guide on how you can incorporate natural elements into your wedding decorations.
Flowers & Greenery
The most obvious way to include natural elements in your wedding is through the use of flowers and greenery. Floral arrangements are the perfect way to add colour, texture, and scent to your big day. Whether you opt for an extravagant display of blooms or something simpler (like potted plants or centrepieces with foliage only), floral arrangements always make a beautiful addition. Additionally, if you're looking for something affordable yet elegant, consider using wildflowers or even dried flowers as part of your décor.
White Wedding Umbrellas
White wedding umbrellas are very popular these days when it comes to outdoor weddings. They can be used in several different ways – including as parasols for guests during the ceremony or as a decorative element during the reception – and they look stunning against any backdrop! You can also find white umbrellas with lace trim that add an extra touch of elegance and romance for those looking for something more formal.
Bringing Nature Inside
If you've chosen an indoor venue but still want to include natural elements in your decorations, there are plenty of options available!
Consider bringing nature inside by using potted plants as centrepieces or hanging planters from the ceiling for a whimsical effect.
You can also fill vases with stones, sand, shells, or other natural elements – this will give tables a unique look that will impress your guests.
Finally, don't forget about candlelight! Candles combined with natural elements create a soft ambiance that can truly bring out the beauty of nature indoors.
Incorporate some (or all!) of these ideas for a unique rustic touch on your special day
No matter what type of decor you choose for your wedding day – whether it's flowers and greenery, white umbrellas, stones and shells, candles or all of the above – be sure it reflects who you are as a couple! Good luck and enjoy your special day.
Related posts