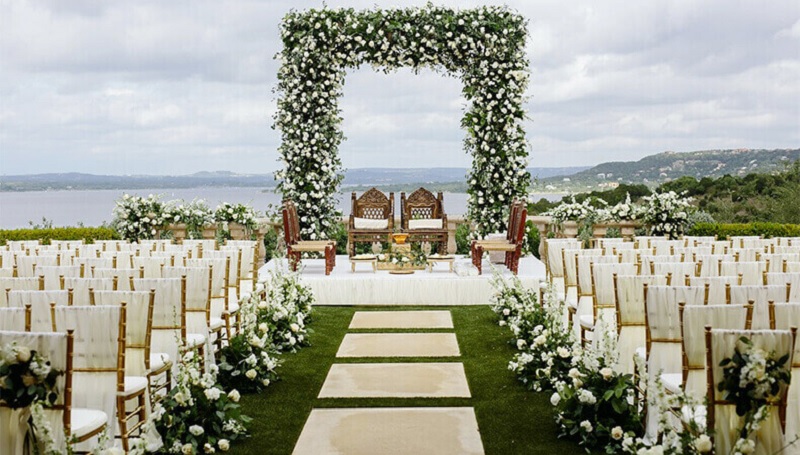 How to Choose the Perfect Destination for Your Wedding
Clare Louise, 9 months ago
6 min

read
175
Your wedding day is a once-in-a-lifetime event, and finding the perfect destination to exchange vows and celebrate your love story is crucial. Costa Rica is an exceptional choice if you dream of a magical celebration amidst stunning natural beauty, vibrant culture, and warm hospitality. Nestled in Central America, this tropical paradise offers many breathtaking landscapes, from lush rainforests to pristine beaches, making it an idyllic Costa Rica destination wedding venue for a romantic affair. As you embark on this exciting journey, let us help you with clear guidance on choosing the perfect destination for your wedding, with Costa Rica taking center stage.
In this guide, we will explore the charm of Costa Rica as a wedding destination and highlight the allure of wedding venues in Costa Rica, such as luxury villas, eco-lodges, tropical resorts, and others, which offer enchanting settings to create lifelong memories.
Assessing Your Preferences and Priorities
Close your eyes and envision your dream wedding. Are you picturing exchanging vows on a secluded beach or amidst the enchanting greenery of a rainforest? Identify the ambiance, style, and overall theme you desire, as this will guide your destination selection process. Every wedding comes with a budget. Assess your financial situation and set a realistic budget that encompasses the wedding ceremony and reception, travel, accommodation, and any additional activities you wish to include for yourself and your guests.
Think about the time of year that holds special significance for you. Consider the climate in Costa Rica during different seasons, as it may influence your decision on when to have your wedding. Compile a list of your nearest and dearest who will join you on your special day. Consider their preferences, mobility, and any specific needs they may have when it comes to accommodation, accessibility, and activities during the wedding festivities.
Researching Potential Destinations
Costa Rica is a premier wedding destination, offering an irresistible combination of natural beauty and vibrant culture. From the lush rainforests of Arenal to the stunning beaches of Manuel Antonio, this country offers an array of captivating settings that will leave you and your guests in awe. Costa Rica is renowned for its pristine beaches, crystal-clear waters, and magnificent sunsets. Additionally, the country boasts diverse landscapes, including volcanic formations, verdant jungles, and cascading waterfalls. It's a haven for adventure seekers, nature lovers, and couples seeking an extraordinary wedding experience.
The options are abundant when finalizing a destination wedding venue in Costa Rica. Luxury resorts, beachfront locations, and intimate wedding villas are all available to cater to different preferences and group sizes. One exceptional option is Villa Firenze, an exquisite wedding villa in the heart of Costa Rica's tropical paradise.
Evaluating Destination Factors
Costa Rica enjoys a tropical climate with distinct dry and rainy seasons. From December to April, the dry season offers sunny days and less rainfall, making it an ideal time for outdoor weddings. However, the rainy season appears charming from May to November, with lush greenery and fewer crowds. Costa Rica is well-connected with international airports in San José and Liberia, offering direct flights from major cities. Local wedding transportation sheboygan wi options, such as private transfers or rental cars, make exploring the country convenient for you and your guests.
Costa Rica offers a range of accommodation options, from luxury resorts to charming boutique hotels and private vacation rentals. Wedding villas, like Villa Firenze, provide an intimate and exclusive setting for your celebration, allowing you to create memories with your loved ones.
Costa Rica has a thriving wedding industry with experienced wedding planners, photographers, florists, and other professionals who specialize in crafting unforgettable destination weddings. They have the expertise and local knowledge to help you navigate the planning process and ensure a seamless celebration.
The official language in Costa Rica is Spanish, but English is widely spoken in tourist areas. Embrace the opportunity to immerse yourself in the vibrant local culture and customs, incorporating traditional music, dances, or cuisine into your wedding festivities.
Balancing Practicality and Romance
When choosing a destination, it's essential to consider the practicalities involved. Familiarize yourself with the legal requirements and paperwork for getting married in Costa Rica. Ensure you have ample time to fulfill necessary procedures, such as obtaining marriage licenses or translating documents. Costa Rica exudes romance at every turn. From picturesque sunsets to gentle ocean breezes, the natural beauty of this country sets the stage for an incredibly romantic wedding. Whether you choose to exchange vows on a secluded beach, in a lush rainforest clearing, or at the majestic Villa Firenze, the romantic ambiance of Costa Rica will create an unforgettable atmosphere.
Imagine celebrating your special day at the luxurious Villa Firenze in Costa Rica's breathtaking landscapes. Villa Firenze offers an exclusive and intimate setting, boasting stunning views, exquisite architecture, and customizable spaces that cater to your unique vision. With its elegant interiors, sprawling gardens, and first-class amenities, Villa Firenze is perfect for couples seeking privacy, sophistication, and the ultimate wedding experience.
Gathering Feedback and Recommendations
Reach out to couples who have experienced the magic of getting married in Costa Rica. They can provide valuable insights, recommendations, and firsthand experiences that will assist you in making informed decisions throughout your planning process. Use online resources such as wedding forums, blogs, and review platforms to gather information and read about other couples' experiences. Explore photos, testimonials, and recommendations to understand what each venue and destination offers.
Making the Final Decision
Review all the information you have gathered, considering your preferences, priorities, and the allure of Costa Rica as a wedding destination. Consider the unique offerings of wedding villas, including the exceptional Villa Firenze, and envision yourself and your loved ones celebrating in this picturesque location. Confirm that Costa Rica and Villa Firenze meet your wedding vision, budget, and logistical requirements. Assess travel costs, accommodation options, and amenities to ensure a seamless and enjoyable experience for you and your guests. Follow your heart and trust your instincts. If Costa Rica, with its enchanting landscapes, warm hospitality, and Villa Firenze, captures your dreams, confidently embrace the decision. Choosing this remarkable destination sets the stage for an extraordinary wedding that will create lasting memories.
Conclusion
Choosing the perfect wedding destination is an exhilarating journey that requires careful consideration and planning. Costa Rica, with its natural beauty, vibrant culture, and exceptional wedding venues, stands out as an outstanding choice. Villa Firenze, nestled in this tropical paradise, offers an idyllic setting for an intimate and unforgettable celebration.
Your wedding day is a once-in-a-lifetime event, and selecting the perfect destination allows you to craft a wedding experience that reflects your love story. Costa Rica's allure as a destination and the attraction of Villa Firenze provides a great canvas to paint your dreams.
It's time to embark on this exciting journey. Begin by researching, seeking advice, and envisioning your dream wedding. With careful planning and the enchanting beauty of Costa Rica and Villa Firenze as your backdrop, you will create a celebration that exceeds all expectations. Cheers to finding the perfect Costa Rica destination wedding venue and a lifetime of cherished memories.
Related posts