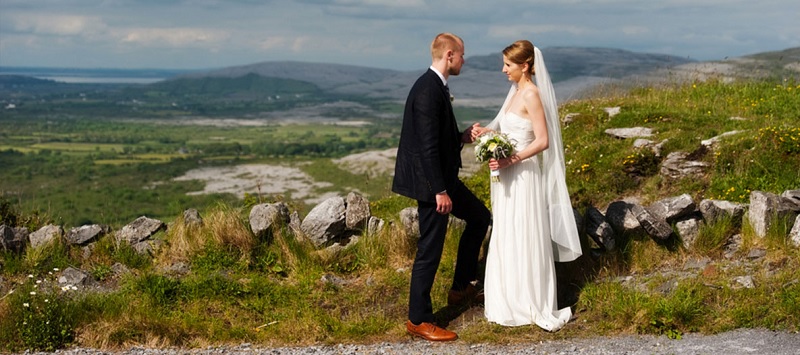 Irish traditions to incorporate into any wedding day
Clare Louise, 4 years ago
3 min

read
1154
You don't have to wed in Ireland to incorporate Gaelic rituals into your ceremony – nor do you have to have any Irish blood in you! Indeed, though Irish Americans are increasingly turning to their roots and partaking in Irish wedding traditions to pay homage to their past, there's no reason why you can't add inject of these symbolic Irish wedding traditions to your own day…
Horseshoe
Let's start with an obvious one. Horseshoes are considered a good luck symbol in virtually every culture, so follow tradition and carry one with you when you're walking down the aisle. Granted: they can be super heavy, so incorporate a small charm into a bouquet or bracelet. Be experimental and add good luck to your wedding day the good old-fashioned way.
Blue wedding dresses
Though blue wedding dresses are more popular today than ever, with brides increasingly turning to Bohemian colors and styles, it was a tradition for Irish brides to don blue on their special day, to symbolize the Emerald Isle. If you want to keep it traditional with a virgin white gown, consider blue bridesmaids dresses to add a touch of Irish sparkle to your day.
Traditional rings
If you want to marry in the way your ancestors did many centuries ago, consider Claddagh rings when tying the knot – a 400-year-old traditional wedding and engagement ring design that depicts two hands holding a heart with a crown. These rings are designed to symbolize love, loyalty, and friendship; wearing the heart facing your body means your heart is taken.
Handfasting
The ancient Celt used the handfasting ceremony to create a "waiting period" before a couple could marry, but today this symbolic union is now used on the day itself. Ropes are tied around the couples' wrists – making two become one – as a way to mark the start of their new chapter as a married couple. Alternatively, incorporate handfasting into an engagement.
Handkerchiefs
The chances are, there'll be lots of tears on your wedding day, so follow tradition and make sure the parents of the bride give their daughter a hanky on her wedding day. Not only is this hanky used to wrap your wedding bouquet, but it can double as a way to dry your eyes if things get a little too emotional. Known as a "magic handkerchief," you can hold onto it and repurpose it into a christening bonnet for your child, should you choose to have one.
Eat goose
"His goose is cooked" is a phrase you've likely heard if you have any Irish relations, but the chances are that you don't know what it means. According to legend, Irish families held pre-wedding dinners with the groom and his family on the night before the wedding, sitting down for a delicious meal of goose to "seal the deal" of the marriage. Once the goose had been cooked, the groom was obligated to go through with the wedding. BBC Good Food has some delicious goose recipes for you to consider, like a honey-glazed spiced goose. Yum!
Whatever you've got planned for your wedding, incorporating one or two of these Irish traditions is a great idea. We congratulate you and wish you the best of luck for your big day!
Related posts