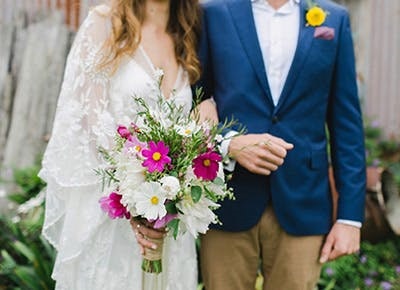 Summer Wedding Flowers
Jerome Yuen, 4 years ago
3 min

read
1118
Summer is a lot of people's favorite time of the year, and that is understandable. The sunny days are uplifting, people feel more positive in general, and enjoy the chance of being outdoors. People are more inclined to enjoy socializing together, laughing and being warmer to each other, just as the season itself is warmer. That plus the weather makes summer weddings a very popular thing. Summer is in fact peak wedding season. Guests can hang together outside, photos look stunning, venues can include parks, beaches, woods. That means that the flowers for the wedding can be popular summer flowers from a professional florist NJ.
Most popular summer wedding flowers
Here is a look at some of the most popular summer wedding flowers.
Sunflowers
Sunflowers are very popular for summer weddings as they make a big and bold statement. Better than any other summer flower they sing bright, happy sunny days! While people think of them as being yellow with a dark center, you can get them in different colors including brown, red, mahogany, orange and bronze. They make great focal points at a wedding.

Dahlia
For those wanting a wedding that is more unconventional that Dahlia can prove to be a popular choice. They are diverse and shaggy in how they look but distinct and attractive still. They would make a great talking point for the guests at the wedding.
Cosmos
This flower is a close relation to the daisy and comes in white, red, different pinks, and orange. It is a very orderly and neat flower with petals that are all placed evenly and it works well for weddings where everything has its place. It can be an accent flower or a main focal point and is something that works well in bouquets a florist Jersey Shore might make because it is easy to arrange.
Gazanias
Also known as the Treasure flower this can be a tricky flower because its flowers close at night, and when the sky is overcast, so the wedding and the reception need to happen during daylight and sunny hours. They come in a great array of colors, are dynamic and can be multi-hued.
Chrysanthemum
These flowers are a popular choice for summer weddings coming in colors including purple, copper, pinks, red, white and yellow. They are especially used as centerpieces on tables and in bouquet arrangements.
Gerbera Daisies
Intense in color these are great for bold weddings with couples who want the flowers to stand out and draw the eyes. They are the fifth most commonly cut flower in the world and are sometimes called the African Daisy.
Peony
A florist NJ will have a lot of experience with working with the peony as it is popular because of its diverse shape and colors.
Tuberose
The Tuberose is loved as a summer choice because of its white color and lovely sweet scent. This flower is not actually related to the rose despite the name. Though roses themselves are another popular wedding flower in their own right.
Summary
A florist Jersey Shore will be happy to talk to you about the kind of summer flowers you want for your wedding. Summer is a time when people are ready to celebrate and with a great selection of summer flowers that will make any wedding beautiful.
Related posts