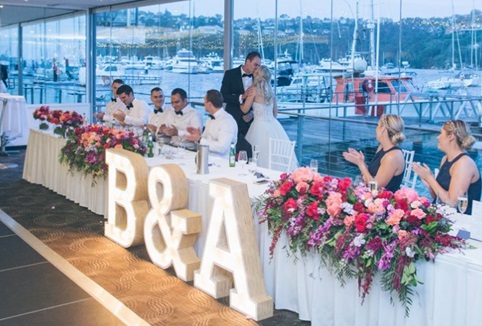 Should I choose a Waterfront wedding venue?
Penny feris, 3 years ago
2 min

read
678
It is no wonder that many brides want to get married at the waterfront, dreaming of the sunlight that twinkles on the surface of the water. An aquatic backdrop contributes to an air of excitement. Luckily, the stunning waterfront venues Sydney are here for couples who crave an aquatic view.
Choosing a Waterfront Wedding Venue?
Most of us love waterfront wedding venues Sydney. These venues are for people who want to have an intimate and picture-perfect wedding. There are three essential factors that can influence the choice of waterside wedding venues. It includes – accessibility, location, and size of the venue. Waterfront venues are gorgeous alternatives to the regular venues because of the surprising photography opportunities they present.
There are many venues available around us. But finding the perfect waterfront wedding venue requires a lot of forethought. To choose the perfect waterfront wedding venue, you should consider many factors, including:
Price:
You see a venue, and you fall in love with it. No matter how much you like the place, if it is not financially accessible for you, it is for no good. Some venues offer different packages. When you are looking for waterfront venues, do your research. Then you will understand which venue will fit in your budget and also serve your needs. You should also compare the different amenities offered by the venue before finalising your choice.
The number of Guests:
Even before you start looking for waterfront venues in Sydney, you should know the number of guests you expect to attend the wedding. The venue you choose should be large enough to accommodate all your guests. Remember, in addition to the guests you invite for the event, there might be a few extra people. It is not possible to have an accurate list of guests, so try to have at least an estimate. For example, if you plan to invite 200 guests, the venue should have a capacity to accommodate 300 people so that all your guests can fit comfortably.
The Fine Print:
Before you finalise the wedding venue, you should do some homework. This will help you find out if they have any rules that might not go well with your event. You may be surprised if the areas you had your eyes on for a perfect photo-shoot are out of bounds. You should also find if the venue has any time limit and whether they allow the type of drinks you want on your menu on their premises. Don't let this catch you by surprise on your big day.
Finding the perfect waterside wedding venues Sydney can be challenging. Your wedding is once in a lifetime event. It should be remembered for many years, and the photograph taken on the venue should be your best possession. So invest your time to find the perfect venue for your event.
Related posts