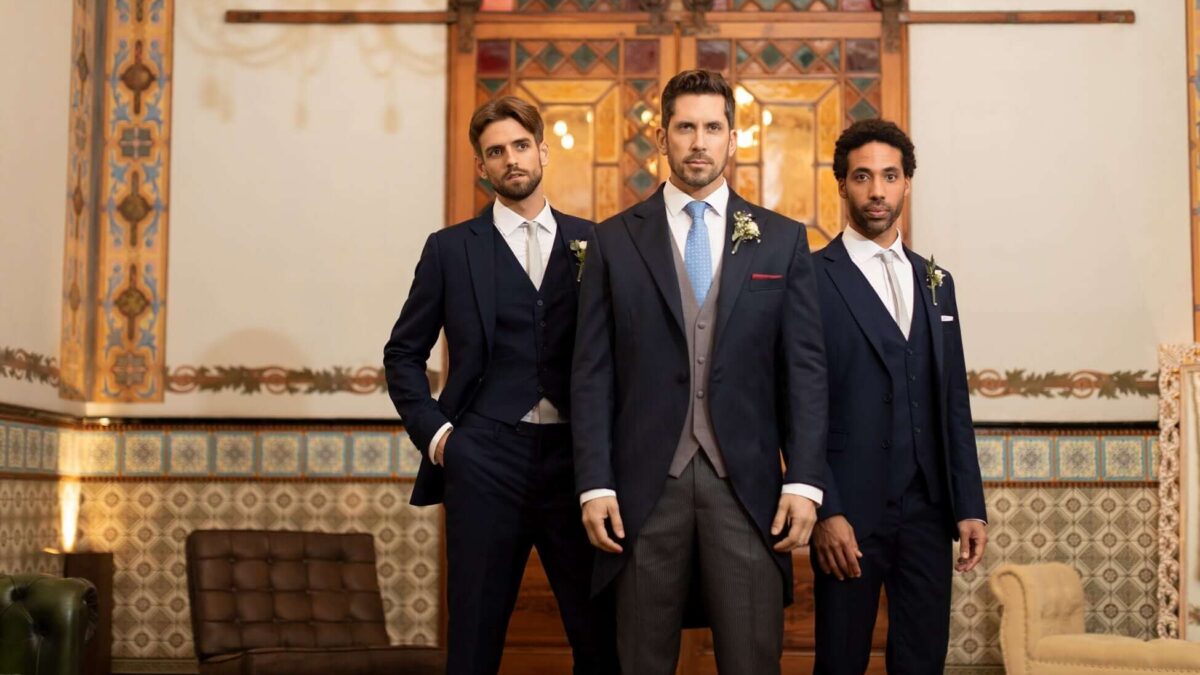 Your wedding suit serves as an outward expression of your style, elegance, and confidence as a groom. Rather than defaulting to expected looks, use your suit as an opportunity to fully embody your personality. Consider aspects like fit, fabric, color, and detail to select a suit that authentically reflects who you are. Your suit should align with your lifestyle and identity, not just wedding formality. Are you more outdoorsy or urban? Traditional and polished or edgy and alternative? Let these facets guide your suit style. A relaxed nature lover could opt for an unlined linen suit, while a world traveler may choose a refined three-piece with custom exotic fabric.
Consider your build
Play to your strengths and downplay any problem areas through strategic suit tailoring. Tall, slender frames suit slim fits and narrow lapels. Shorter grooms should seek medium-high rises and avoid boxy cuts. Muscular builds highlight their assets in a double-breasted silhouette. Knowing your body type directs you to styles where you'll shine. Incorporate subtle details referencing your passions. A music aficionado may opt for an interior pocket lined with sheet music fabric. A dog lover could embroider paw prints inside the jacket. Cryptic patterned linings or family name monograms offer personalization. These small custom touches make the suit distinctly you.
Match accessories
Accessories present another avenue to work in personality. Express your whimsy with unique cufflinks featuring your favorite bands, sports teams, or superheroes. Swap traditional ties for modern skinny versions or casual knits. Don one-of-a-kind boots or sneakers for a reception kickoff dance. Have fun and showcase what makes you, you. Suit color also affects the personality and overall feel. Deeper navy suits project confidence. A grey suit and pastel tie strike an upscale balance. Lighter tan or blue shades feel laid-back and approachable. And who says you can't wear white? Use color to generate the energy you want. The suit's character is reflected in its fabric choice. Linen and seersucker evoke casual class. Houndstooth and tweed suit professional grooms. Velvet offers richness. Corduroy and jersey inject personality.
Customize like crazy
When custom-making your suit, personalization possibilities are endless. Design whimsical patterned linings that only you know about. Add shoulder patches referencing favorite bands or hobbies. Contrast button colors and stitching for a kick. Monogram everything for a sophisticated signature look. Dream up details that completely capture you. There's no custom wedding suits style rule declaring you must wear a boring black suit. Use your attire to reveal your essence. Play with personalized fabrics, colors, patterns, and accents until you find the perfect representation of your spirit. Show the world who you are on your special day.
Finishing touches like jewelry, footwear, and other accessories provide ample opportunity to infuse personality. Opt for metal cufflinks with unique engravings meaningful to you. Do your favorite sneakers or boots for your reception entrance dance if that expresses your style. For the ceremony, consider a boutonnière featuring blooms related to proposal spots or your venue. A printed bow tie or pocket square introduces quirky flair. Just be sure expressive accessories align with your overall suit style.
Related posts